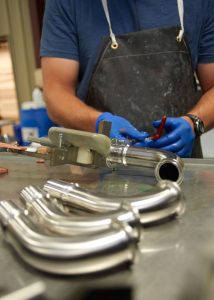 Electropolishing is a controlled electrochemical process utilizing acid electrolyte, DC current, anode and cathode to smooth the surface by removal of metal. It is considered the ultimate form of passivation as it not only removes iron and nickel from the stainless, it leaves behind a chromium rich surface (passive layer) as a result of the process.
It levels micro peaks and valleys to produce a clean, smooth sterile surface. Corrosion is eliminated.
Quality Fabricators is able to electropolish small vessels and a variety of 316L components.  Call 603.905.9012 to discuss your special project.